Each person is different and pursues their own goals when it comes to taking a freediving course. Whether:
To evolve freely and safely underwater
To overcome a fear of water
To better manage your stress or increase your ability to concentrate on a daily basis
To breathe more consciously
To improve technique and safety
To take oneself for Jacques Mayol
As part of an underwater portrait, advertising or cinematographic photoshoot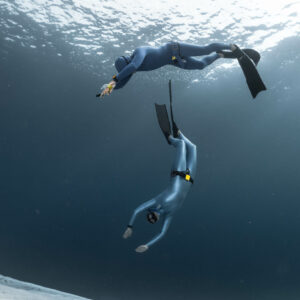 900.00 €
Who is it for?
Children, women, men, 10 to 77+ years old, athletic or not, thin or overweight, calm or stressed, comfortable in the water or not, good or bad swimmers, smokers or non-smokers. All you need is an attraction to water.
Your "Freediving" Experience?
Whatever your motivation, the preparation of your Experience will always start with a conversation with Bastien. From this dialogue a tailor-made course will be born, in perfect harmony with your expectations.
More than a course, it is an accompaniment in the discovery of yourself and your relationship to water.
For your safety and relaxation, Bastien will always be present, eye to eye, while you are underwater, and he will never push you to do more than you can.
YOU WILL NEVER BE ALONE!
Learning freediving is also learning to slow down.
A session lasts 3 hours and generally breaks down as follows
10 min of "guided meditation"
50 min of theory
90 min of practice at sea
30/40 min sailing
Already Certified and Want to Train?
– Contact us
.
(Minimum AIDA 3 or equivalent. Maximum depth -50M)
Please contact Bastien via WhatsApp or by phone on +33 (0)6 34 27 15 67 for reservations and preparation of your Experience.
Reservation request
Please Bring:
Swimsuit / Water / Sunscreen / Towel
Meeting place:
Port of Beaulieu-sur-Mer (fishermen's corner at the far right when arriving at the port)
Exceptionally, the departure can be from Villefranche-sur-Mer.